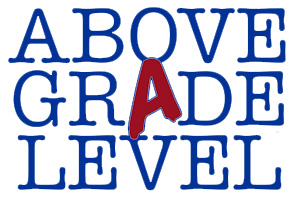 Tutoring the way it should be done — one-to-one!
Above Grade Level provides in-home, professional instruction in math, English and more. Our expertly-developed, customized, proven curriculum is so effective that we guarantee your child's grade will improve by at least one full grade level or ten percentage points.
Our proven curriculum, plus one-to-one undivided attention, is why we can guarantee such results.
Above Grade Level's programs and materials were developed by an international team of education experts and the content is continuously revised and updated to ensure your child receives the best instruction possible. Whether your child is a struggling learner, on track with peers, or gifted and looking for acceleration, we have unique, customized programs to meet individual needs.
With Above Grade Level's in-home tutoring system, you won't have to drive your child around town or worry that the tutors aren't giving them enough personal attention. You won't have to settle for national "learning centers" with cookie-cutter solutions and methods. All our tutoring is one-to-one, face-to-face and personalized.
We specialize in:
Mathematics
Algebra
Geometry
Calculus
English
Writing
Reading Comprehension
Grammar
Chemistry
Physics
SAT/PSAT & Exam Preparation
Looking for a smart investment with high purpose and low overhead?
Above Grade Level is an in-home tutoring service that uses an outstanding proprietary curriculum to help children of any grade level live up to their potential in the classroom. With over a million dollars in development, we've created a winning program that helps children succeed, parents be happier and franchisees run a successful business. The program works so well, we even guarantee the students' improvement!
Interested in franchising?
We are actively seeking potential franchise owners who are passionate about helping children and families in their community; possess high morals and ethics; and are driven to achieve financial success and independence through business ownership. Single and multiple unit territories in premium locations are available to individuals and investors with the requisite management skills and financial resources. Prior experience in education or small business is not necessary to be successful. We are selective and will wait to partner with the right franchisees.
As a franchise owner, you will enjoy:
A low-overhead model with no storefront, no rent, excellent ROI potential
Simple, effective systems for teaching, marketing, sales and operations
Extensive, protected curriculum, customized to the educational requirements of each state
A business model proven to attract and retain students in a competitive business market
A unique and highly-desired service
Exclusive territory in your community
An Above Grade Level franchise is affordable, marketable and easily managed. You will be the exclusive provider in your area, pay no rent (since you can operate from home), and offer a product you can believe in. More importantly, you'll be helping children in your community develop a brighter future.